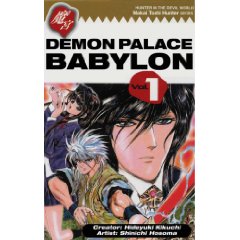 ---
Résumé
Tough-as-nails high-schooler Kyoya Izayoi, master of the rare martial art of Nenpo, is back wielding the mythical sword Ashura in this classic tale of good versus evil. A floating palace mysteriously appears over Shinjuku Cho Park, sending the Intelligence Agency scrambling for information. No need to infiltrate the palace this time - the Lord of the Palace is throwing a housewarming party ! He's invited a who's who of Japan, along with Kyoya and Sayaka and the three mythic Knights of Marduk. Will Kyoya and Dr. Mephisto find out who the Lord of Babylon Palace really is ? Why is the Lord of Babylon after Sayaka ? Can Kyoya get to her before it is too late ? Kyoya may have finally met his match !
---
Site officiel
Il n'y a plus d'informations sur le site de l'éditeur.
---
Prix
: 7,22 €
Format
: 12,7 x 18,5 cm
Nombre moyen de pages
: 208 (Noir & Blanc)
Sens de lecture
: Japonais
---
Séries Liées
: d'autres histoires, un même univers.
---