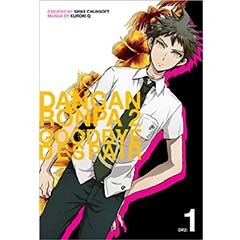 ---
Résumé
Danganronpa 2: Goodbye Despair is an alternate version of the events told in the manga Danganronpa 2: Ultimate Luck and Hope and Despair. That series told the story through the eyes of ''Ultimate Lucky Student'' Nagito Komaeda; now Goodbye Despair gives you the perspective of his archrival in the desperate classroom murder game, Hajime Hinata!
---
Prix
: 9,39 €
Format
: 12,7 x 17,8 cm
Nombre moyen de pages
: 200 (Noir & Blanc)
Sens de lecture
: Japonais
---
Séries Liées
: d'autres histoires, un même univers.
---