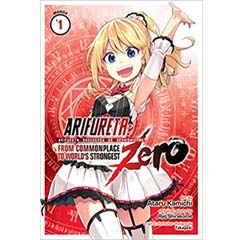 Arifureta: From Commonplace to World's Strongest Zero
---
Résumé
Before Hajime was transported to Tortus, the Synergist Oscar Orcus was having his own adventure–but not willingly! Oscar is a simple working man, keeping his head down to earn his money and support an orphanage, until Miledi Reisen bursts into his life. She wants Oscar to join her in a quest to defeat the gods. Oscar refuses to chase after that kind of danger…until that kind of danger finds its way to him.
---
Prix
: 9,39 €
Format
: 12,7 x 19 cm
Nombre moyen de pages
: 170 (Noir & Blanc)
Sens de lecture
: Japonais
---
Autres éditions de la même série
---
Séries Liées
: d'autres histoires, un même univers.
---