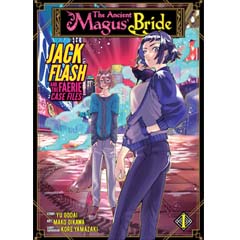 The Ancient Magus' Bride: Jack Flash and the Faerie Case Files
---
Résumé
Faerie-born Jack Flash and her human-born brother, Larry, run a detective agency in New York City specializing in crimes committed in the hazy boundary between the human and faerie realms. They never expected to receive a letter from an ancient magus of the Old World, but Echos, caretaker of dragons, has a task for them.
---
Prix
: 9,39 €
Format
: 12,7 x 18,1 cm
Nombre moyen de pages
: 180 (Noir & Blanc)
Sens de lecture
: Japonais
---
Autres éditions de la même série
---
Séries Liées
: d'autres histoires, un même univers.
---