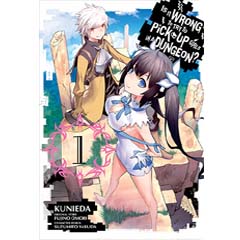 Is It Wrong to Try to Pick Up Girls in a Dungeon?
---
Résumé
Bell Cranel is just trying to find his way in the world. Of course, in his case, the "world" is an enormous dungeon filled with monsters, below a city run by gods and goddesses who have way too much time on their hands. He's got big dreams but not much more when a roll on the random encounter table brings him face-to-face with the girl of his dreams–but what's a beginning adventurer have to offer a brilliant swordswoman? And what if the lonely goddess who sponsors his solo adventuring gets jealous…?!
---
Prix
: 9,40 €
Format
: 12,7 x 18,1 cm
Nombre moyen de pages
: 192 (Noir & Blanc)
Sens de lecture
: Japonais
---
Autres éditions de la même série
---
Séries Liées
: d'autres histoires, un même univers.
---