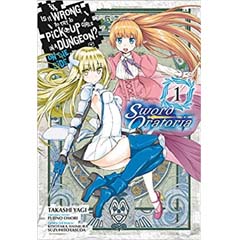 Is It Wrong to Try to Pick Up Girls in a Dungeon? Oratoria
---
Résumé
Aiz Wallenstein, the Sword Princess, is known as one of the most powerful warriors from one of the most powerful groups in the city of Orario: Loki Familia. With them, she ventures into the deepest parts of the labyrinthine Dungeon beneath the city, stalking the monstrous denizens that lurk there and vanquishing them with the blazing light of her sword. But when she meets a certain white-haired boy, the encounter will change both of them forever...
---
Prix
: 9,40 €
Format
: 12,7 x 18,1 cm
Nombre moyen de pages
: 224 (Noir & Blanc)
Sens de lecture
: Japonais
---
Autres éditions de la même série
---
Séries Liées
: d'autres histoires, un même univers.
---